The Beginning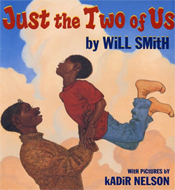 Deciding to read from Will Smith's picture book "Just the Two of Us", got my students reveved up to write. A positive tale of fathering is interwoven into a story about a father and a son. It is actually a praise poem of lyrics in celebration of the authors feelings towards the lifestages of his son.

It was June and the theme was very appropriate to commemorate an upcoming 
"Father's Day." A fluent repetitive song about 'building castles in the sky,' set the 
stage for a critical narrative about the transformative years of male adolescence.
It is a story told with the love and intimacy that only a male role model can impart.

Students responded overwhelmingly to the invitation to write poems in response to a read aloud. After the assignment, I frantically gathered up the compositions
to review over the weekend. A special assembly was scheduled later in the afternoon. As I entered the auditorium, i was approached by one of my students.
The student had expected that I had read her poem and I was left wondering about the urgency.

Finally, the weekend arrived, and i was able to read the student's response. I was stunned by the openness, the feelings of angry and hostility that the student had toward her father. The articulation of the words on the page, pierced my spirit. I had to play gospel music to insulate myself from the pain. I returned to school to affirm that i had indeed read her work.

In silence, we both acknowledged what she had courageously shared, with tears, no words and just a nod.